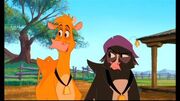 Nuclearzeon's secondary, wiki-only spoof of Frozen (2013).
Nuclearzeon loves the idea of Grace as Anna, but cattle characters in movies are VERY tough to find, so bear with him.
Anna - Grace (Home on the Range)
Elsa the Snow Queen - Mrs. Calloway (Home on the Range)
Kristoff - Llama Kuzco (The Emperor's New Groove)
Sven - Rajah (Aladdin)
Olaf - Tito (Oliver & Company)
Hans - Temutai (Kung Fu Panda: Legends of Awesomeness)
The Duke of Weselton - Nigel (Rio)
The Duke's Thugs - Mauro (Rio) and Vlad Vladikoff (Horton Hears a Who)
Sitron - Spirit (Spirit : Stallion of the Cimarron)
Oaken - Po (Kung Fu Panda)
Pabbie - Bagheera (The Jungle Book)
Bulda - Duchess (The Aristocats)
Cliff - Danny (Cats Don't Dance)
Marshmallow - Rudy (Ice Age 3: Dawn of the Dinosaurs)
Young Anna - Katie (Horton Hears a Who)
Young Elsa - ???
Young Kristoff - ???
Young Sven - Young Shere Khan (Jungle Cubs)
Wolves - Baboons (Tarzan)
The King and Queen of Arendelle - Otis and Daisy (Barnyard)
Kai and Gerda - Kovu and Kiara (The Lion King 2: Simba's Pride)
The Dignitaries - Spongebob, Patrick, Squidward, and Mr. Krabs (Spongebob Squarepants)
Community content is available under
CC-BY-SA
unless otherwise noted.